Konstruktionsmerkmale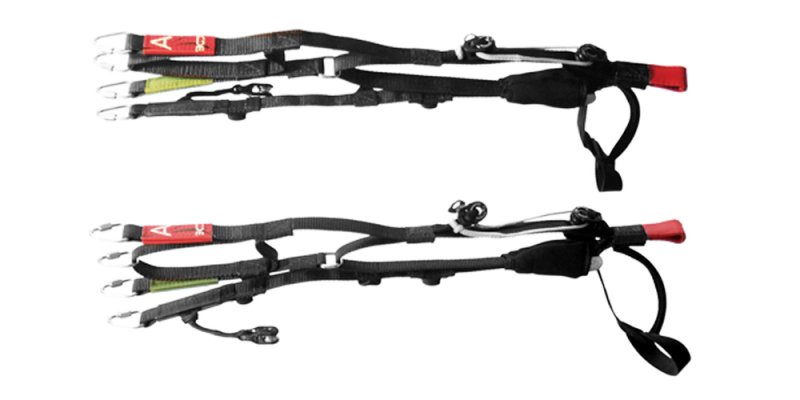 Optimized Motor Risers
Trimmers and a re-designed geometry make the PPG risers fully optimize for speed and safety. The trimmer webbing and brake pulleys have been designed to be replaceable if they become worn.
Cord Cut Billow (CCB)
Das Cord Cut Billow System wurde entwickelt um die Oberflächenqualität, das Widerstandsvermögen und die aerodynamische Güte eines Gleitschirmes zu verbessern. Im Wesentlichen besteht das CCB aus zwei längsverlaufenden Nähten auf dem Obersegel, um den 3D Ballooning Effekt der Eintrittskanten bei einem befüllten Schirm zu verbessern. Das System reduziert die Falten und Knitterstellen, die entlang der Rippen an der Nase des Gleitschirmes verlaufen, erheblich. Nicht nur, dass diese Falten am Obersegel vorkommen, sie haben auch Auswirkungen auf die Rippen selbst, da sie die Profiltreue verändern und die Rippenstabilität reduzieren. Das CCB bringt generelle Verbesserung in der Leistung und ein Mehr an Stabilität im Segel. Das ist ein signifikanter Schritt nach vorne in der Konstruktion von Gleitschirmen.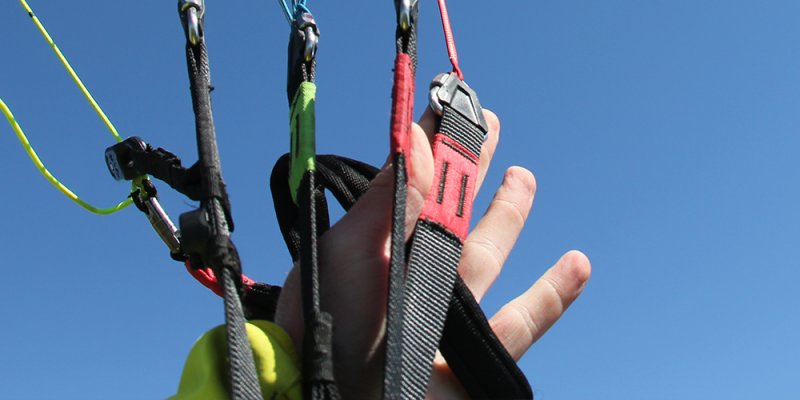 Baby-A-Tragagurte
Wir haben einen geteilten A-Tragegurt zum anlegen von grossen Ohren. Dieser Gurt ist ab der Hälfte ½-Verhältnis mit dem Rest der A-Leinen. Dies erleichtert das Benutzten des Manövers "großen Ohren" und hilft dabei, Geschwindigkeit und Stabilität beim beschleunigten Fliegen zu verbessern. Das Beschleunigersystem ist leichtgängig, einfach und sorgt für bestes Gleiten im beschleunigten Flug.
High or low hang point ready
These risers are designed to cater to low and high hang point paramotors. There are two attachment points designed into the risers allowing a low hang point paramotor to be connected to the lower attachement point and high hang point paramotors to the upper one. This gives freedom to the pilot without having to change risers.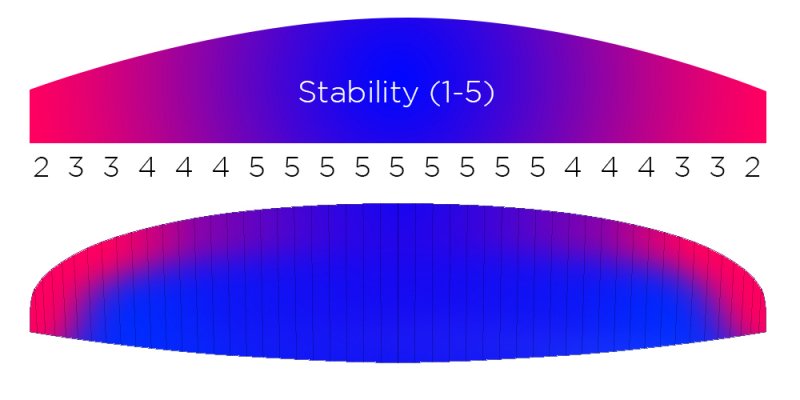 Progressive Stabilität
Die progressive Stabilität soll Piloten vor leichter bis mäßiger Turbulenz warnen statt plötzlich völlig zusammenzuklappen, wenn es richtig turbulent wird. Der Artikel von Bruce in der Cross Country-Zeitschrift "Shifting Our Thinking on Safety" erklärt: "Ein Gleitschirm, der super stabil ist und fast nie klappt, kann zu mehr Unfällen führen, als wenn er öfter Klapper hat. Der Pilot ist ohne kleinere Klapper nicht vorbereitet und hat wenig Erfahrung mit dieser Situation umzugehen". Jeder Flügel wird bei starker Turbulenz einen Klapper bekommen. Ein kleiner Klapper in mittleren Turbulenzen ist leichter zu handhaben und daher sicherer als ein großer Klapper in starken Turbulenzen, der den Piloten überrascht.
Replaceable Brake Pullies
With a simple around-and-through, you can easily replace those squeaky old brake pulleys or switch them for rings.
Snap locks
Snap Locks sind leichte, kompakte Magnetbefestigungen, die die Bremsen mühelos mit den Tragegurten verbinden. Ein kleiner fokussierter Magnet in der Mitte und ein internes Verriegelungssystem halten den Bremsgriff an Ort und Stelle und geben ihn nur frei, wenn die Griffe zum Piloten hin heruntergezogen werden. Dieses einzigartige Designmerkmal sorgt dafür, dass die Griffe beim Groundhandeln, Packen oder Ausführen von Manövern sich nicht einfach von der Befestigung ungewollt lösen. Das Snap Lock-System löst viele der Probleme, die mit Druckknöpfen oder Magneten verbunden sind.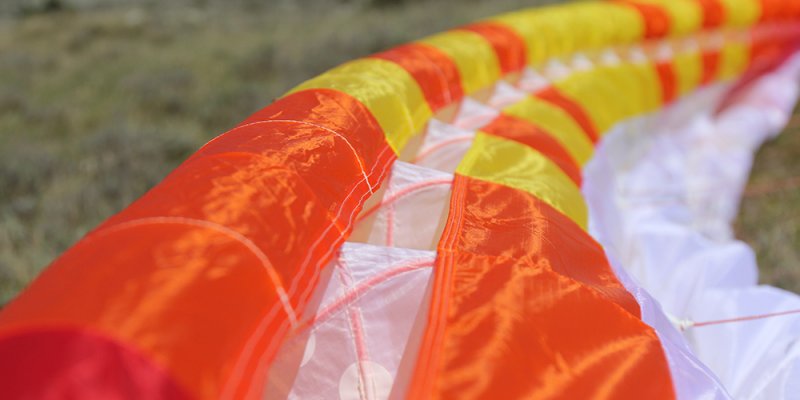 Strong shark nose
Eine aggressive Strong Shark Eintrittskante optimiert den internen Druck des Profils bei jeder Geschwindigkeit.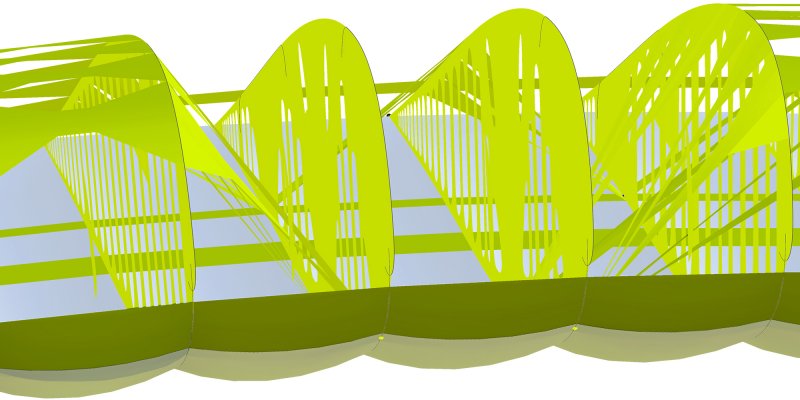 Gewichtsoptimierte Rippen
Wir haben die Festigkeit und Robustheit der Rippen beibehalten und gleichzeitig unnötiges Material entfernt. Dies bedeutet weniger Gewicht, ohne die Kosten zu erhöhen oder die Festigkeit des Flügels zu verringern. Die Lochpositionierung und -größe hängt von den Lasten ab, die das Segel vor Ort aufnimmt, und dank der jüngsten Entwicklungen in unserer Software ist es jetzt möglich, dies genau zu berechnen.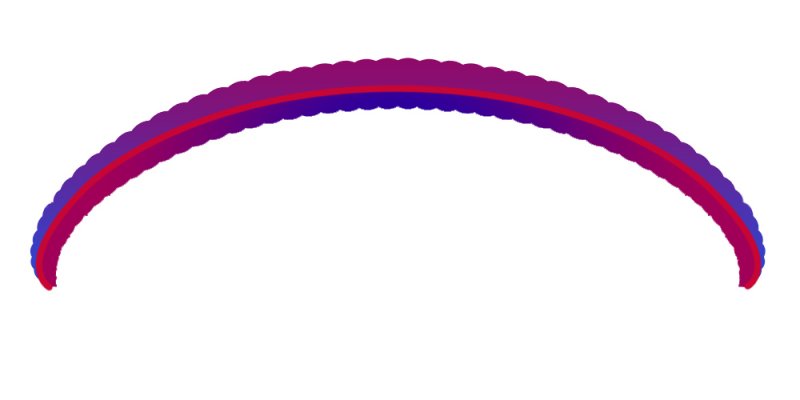 Elliptical Arc
The LUNA 2 has a flattening ration of 11.5% meaning the arc is high and elliptical. This gives great handling, and is also stable under power.